La Tapatia Tienda Mexicana is an excellent ethnic market that deserves a stop when you're in the neighborhood. Located at 1440 Des Moines Street (between E 14th and E 15th streets), this full service tienda (shop) provides a variety of Hispanic products including freshly made tortillas, tons of fresh fruits and vegetables, and even prepared foods to take home or, if you're like us, eat in the car right after you check out.
When you first walk in the store, you'll see the huge array of dried herbs and seasonings. Also, all types of dried chiles, rows and rows of them.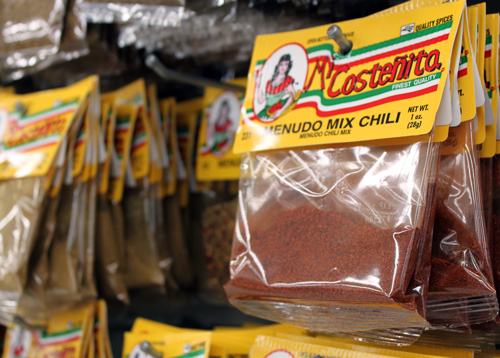 Then you'll see the produce. The variety of fresh fruit and vegetables is huge. Ripe mangos, papayas, avocados, nopal, tomatoes, it's all here.
The limes are excellent, and a great value. They're not the thick-skinned limes you may be used to in your regular grocery store, but small, thin-skinned limes that are extremely juicy. Grant uses limes in a lot of his cooking and seriously, pick up a few of these limes and make some margaritas.
And the peppers! So many choices, try one of each. Hot, sweet, an endless array of colors - it's a beautiful thing.
Once you've made your way through the produce section, your nose will lead the way to the take out area. I mean it when I say don't go to La Tapatia before lunch. It smells wonderful and tastes even better. They have beef...
They have pork...
And of course, fresh, hot chicarrones. Must. Have. Chicarrones.
We always pick up some pork and chicarrones (duh). The pork is juicy and tender and perfect in a quesadilla or quick fix burrito or enchilada.
And you'll have a hard time walking by the pollo rostizado.
The grocery aisles are full of Mexican staples like masa, beans, great canned chiles and tomatoes.
The meat counter is full of many Hispanic favorites - thin cut steak, all parts of the pig, and we were surprised to see this delicacy - yes, that's chicken feet.
The butchers are a hard working bunch, always willing to answer a question or customize an order.
In the dairy case, you'll find a wide variety of Mexican cheeses.
And that most delicious of sour creams, Mexican crema. Slighty thinner than your normal sour cream, it's perfect for sauces and dolloping on nachos, chimichangas and well, everything. We always have this in our fridge.
I love the Jarritos brand of Mexican soda. Made with natural sugar, they just taste really fresh and not too overly sweet. The toronja, or grapefruit, flavor mixed with vodka and a squeeze of lime is the perfect way to end a summer day on the patio. I'm just sayin'.
They also have an on-site bakery at La Tapatia. You'll find fresh-made croissants and rolls, bolillo, and a nice variety of sweet Mexican baked goods.
La Tapatia is truly a culinary trip through Mexico. Plan to visit it soon and you won't be disappointed. They are open 7 days a week from 7am to 10pm. Don't miss out on one of central Iowa's best ethnic markets. Now, did someone mention margaritas?