There are some restaurants that we really enjoy, but for some reason or another, don't get there very often. One of those restaurants for us is The Cafe in Ames. The Cafe is located in the Somerset Neighborhood in north Ames at 2616 Northridge Parkway.
The Cafe is open for breakfast, lunch and dinner, and also have brunch on the weekend. Their focus is on local farmers and purveyors and they grind and case their own sausage, grill over wood fire, and bake in a stone oven. You can really feel the love in the food at this place. The breads and pastries are wonderful and they'll serve all of your favorite coffee drinks, too.
The pastry chefs at The Cafe make the most delicious desserts. Just look at this dessert case - tortes, cheesecake, creme brulee, bread pudding, tiramisu - it's all fabulous.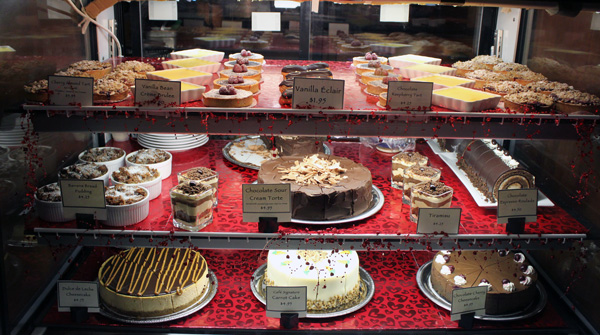 There are lots of choices for lunch, too. Fresh smoked meats make wonderful sandwiches.
It seems it's always super busy at The Cafe, so do expect to wait for a table most nights. They don't take reservations, so you'll have to get your name on the list if you're there after they first open. We went on a Thursday night, so our wait was only about 15 minutes. Not bad, and we had a nice glass of merlot to sip on.
There are usually a couple of specials each night, and some great homemade soup. Our server, Amy, was quick to greet us and let us know what they had that night. We decided to start with the Spanish Deviled Eggs - local eggs with Spanish chorizo and truffle oil - so creamy and flavorful.
The wine list is a little on the pricey side, but the choices are well thought out and interesting. We chose an Albamar Pinot Noir for $29 and it was very nice. A little fruit forward, a couple of years in the bottle, it went very well with our entrees.
And WOW, the entrees. Grant decided to go with one of the evenings' specials - a Grilled Pork Jowl with red wine butter sauce, served with roasted fingerling potatoes, English peas, and pickled fennel. Perfectly grilled, this pork jowl was tender and juicy, rich and full of flavor. The chefs at The Cafe are creative, but execution is spot on. What a great meal.
I chose the Pasta Bolognese - penne pasta with house-made fennel sausage, marinara, cream and pecorino romano cheese. Quite decadent, plenty of sausage in that wonderful cream sauce. The penne was cooked perfectly and the cheese had just the sharpness to round out the dish. I almost finished the whole thing! But... you always need to save room for dessert at The Cafe.
Remember that dessert case? It's pretty tough to pick just ONE thing to taste from all of the beautiful choices. So we decided not to share, but each get our OWN dessert! Grant had the Raspberry Chocolate Torte. It was as beautiful as it was delicious.
I couldn't pass up the Dulce de Leche Cheesecake - I love cheesecake and caramel anything is always right up there. This was soooo good - creamy and rich, a bit of chocolate and that gooey caramel on top. It was perfect and I'm not ashamed to say I ate the whole piece. Who knows if it would have been as wonderful the next day? I wasn't taking any chances.
Like I said, we've always had excellent meals at The Cafe. If you're looking for a place where the staff truly cares about food, where it's procured, and how it's prepared - take the short drive to Ames and try The Cafe. I know we're going to make a point to eat there more often (I hear they have tapas on Wednesday nights!). The food at The Cafe is definitely worth a visit.
The Cafe
2616 Northridge Parkway
Ames, IA 50010
515.292.0100
Menus, hours, and more information at www.thecafeames.com.